PHOTOhype Films
If you've been to the cinemas this year,
then I'm sure you or your friends are familiar
with some recent Hollywood releases about
the whole backpacker scene - in particular the
youth hostel movement in Europe! We have the
horror flick [ Hostel ] which really made the hostel
movement look bad. [ Euro Trip ] a hilarious film
that simply took the piss out of everything & now
we have [ Americano ] - a more down to earth
version behind the inspiration that's powering
many youth to simply travel Europe.
Last week, I was surfing the net when I found this article about
the Americano film. It gave a small mention to [ Hostel ] & oddly enough
[ the article ] also gave mention to yours truly, me! Thus, I think now's
the perfect opportunity to tell everyone about The PHOTOhype's future plans
to leave Krakow & all of Europe's charm to return to the place from which
this project came to start, Hollywood - scary thought, eh?
Don't worry, true believer, we are not going to chop up any backpackers,
or chase a love story in Spain. Matter fact, we are already working on our
[ 1st full length feature film ] which is about our favorite subjects - the point
of travelling & the world of still photography. I'm pretty sure you are going
to like or love the script & the upcoming feature film, guaranteed.
[ PHOTOhype FILMS: Live Your Life ]
PHOTOhype BOOKS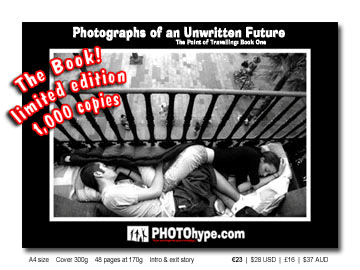 Now only €23 with FREE shipping!
FREE shipping, FREE map of Krakow, FREE travel magazine
48 pages of brilliant B&W photographs alongside inspiring
travel quotes from backpackers & hostel travellers.