I'd spent many years wishing & dreaming I'd have my own horse. My family knew nothing about horses, I had a back yard just large enough for a dog & was only 4 years old. The odds were stacked against me. Still, I asked for a pony.
When a friend out grew Nobby, I jumped at the chance to ride him.

"This photo was taken by a proud
mum, happy to see her daughter's
wishes finally come true."

The film was placed into my mum's handbag where it stayed for five years. Finally, the bag was sorted out and the forgotten roll of film re-discovered.
It was certainly a surprise to find it and since then it's travelled with me as a constant reminder that dreams can come true. That pony became my best friend and although no longer with us I will always remember him that way.
Linzi Williams
Team Wales
PHOTOhype.com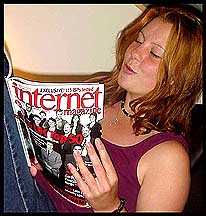 [ click on image 2 exit ]
Linzi Williams · Team Wales · PHOTOhype.com | E-mail: Linzi@PHOTOhype.com
| | |
| --- | --- |
| GEOhype PHOTOGRAPHY aka PHOTOhype.com (1997-2003). All images, letters & stories are copyrighted 2 GEOhype PHOTOGRAPHY & Geo Communications Design (1991-2003). Nothing on this site is 2 be reproduced without written permission from Geo D. Oliver. PHOTOhype.com is a very large & hyper-linked site. If you dig deep enough, you'll find the coolest stories, photographs & out-takes from my life with The Hype! | |