| | |
| --- | --- |
| | The Jacuzzi. |
All the smiles you will see are for so many obvious reasons.
1: That warm vibration in The Jacuzzi... Is it hitting that special spot? Does it feels good?

2: The slippery soap and bubbles that cloud The Jacuzzi... Yeah, your guess is as good as mine. Wondering who is that tickling your feet is all you can do.
"Still, my mind continues 2 ponder."

Why are they still laughing? Maybe they are laughing because they just got splashed with water... Or, maybe they're laughing in response 2 the splash war, that's about 2 begin. Well, I am outta here. Grabbing my beer & my shampoo. I got my lady & my friend. We'll be in The Jacuzzi. I'll see you there. -Shawn Trotman, USA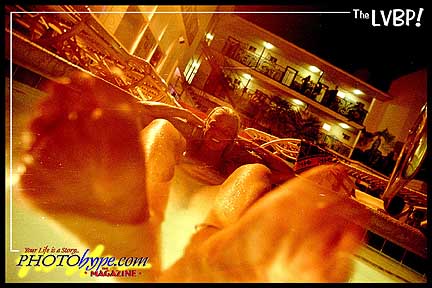 Caroline Heal of England was the 1st person photographed in: "The Viva, Lost Wages Project"

[ click on logo 2 exit ]
Shawn Trotman · Team USA · PHOTOhype.com | E-mail: TrotmanSean@hotmail.com
From Backpacking 2

Travelling around the world!