| | |
| --- | --- |
| | Day One. |
Day One began 7hrs. late...
We left Vegas around 3pm, instead of the original 8am departure time, set by "The Jock". My mind was constantly spinning from last nights bizarre all nighter at the hostel. By far, I wasn't in the best condition 4 the long 5 hour drive.
Barstow was an oasis town, built upon one thing, The Outlet Shopping Center. 95 brand names, including GUESS? Calvin Klein & my personal favorite, The Gap. "The Kidd" mumbled the words "food", so that became our top priority.
KFC hit the spot with a box of honey BBQ wings & one mean & extremely bossy manager. Gosh! I felt sorry 4 the co-workers behind the counter. The manager/crew leader/person in charge, constantly yelled at them. She ordered them around like a couple of delinquent kids & threatened 2 "write them up", if she caught them talking 2 one another. No joke, true believer, I am not exaggerating at all. The Hype Team & I were out on the far end of the lobby, so 2 hear her babbling mouth from that far away... Man, somebody is truly abusing their power of authority.
| | |
| --- | --- |
| "The Don" & "The Jock" take a moment 2 analyze the situation @ hand | The young employee stands within "striking distance" of his future ex-boss |
The Surf City Hostel in Hermosa Beach, California, will always be home in regards 2 The PHOTOhype Project. Upon our arrival 2 the hostel, I was met up by a lot of familiar faces, as well as a few new ones. My photo gallery brought back a lot of old memories that Vegas managed 2 push 2 the back of my head. The remodeled Hermosa Pier finally re-opened, so I took a solo stroll 2 the end, bringing 2 mind a phrase I wrote awhile back...
"When you return 2 the place from which you've come 2 start, You will be
enlightened with a brand new vision of The Painted Heart."
Patrick Molloy's is a cool Irish Pub. It was groove night & the DJ spun a nice mixture of Urban Hip Hop, Reggae & Acid Jazz. I found myself chatting away with 2 Redondo Beach locals. I had a rough start in the beginning, but once we found a common ground, photography, that's when they finally gave me the attention I felt I deserved. Then again, I forgot where I was at, Los Angeles, & I forgot who I was talking 2, American girls.
Aloha Sharkeez never fails. Always a good time 2 be found there. About a minute after walking thru the door, we met this group of Irish Girls, who immediately invited us over 4 a drink or 2. How cool is that? Not only did I continue 2 loose my faith in American girls, but I'm constantly being reminded of why I left Hollywood, 4 The PHOTOhype Project.
Oh well, true believer, Day One ended around 3 o'clock in the morning over a nice Sicilian pizza slice from Zeppy's.
Geo D. Oliver
Team Alaska
PHOTOhype.com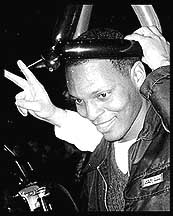 Photo By: Vital Gerets

Accommodations in Los Angeles provided by: The Surf City Hostel & The USAhostels Group
| | |
| --- | --- |
| GEOhype PHOTOGRAPHY aka PHOTOhype.com (1997-2003). All images, letters & stories are copyrighted 2 GEOhype PHOTOGRAPHY & Geo Communications Design (1991-2003). Nothing on this site is 2 be reproduced without written permission from Geo D. Oliver. PHOTOhype.com is a very large & hyper-linked site. If you dig deep enough, you'll find the coolest stories, photographs & out-takes from my life with The Hype! | |